How to Get Saved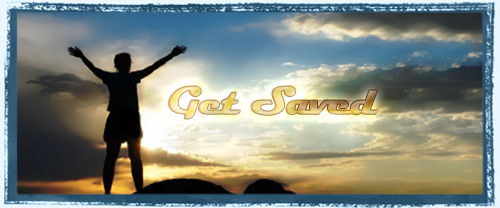 1. The Bible says:
"The LORD looks down from heaven upon the children of men, to see if there are any who understand, who seek God. They have all turned aside, they have together become corrupt; [There is] none who does good, No, not one" (Psalm 14:2-3). "For all have sinned and fall short of the glory of God" (Romans 3:23).
"I agree with the Bible and admit before God that I am a sinner. I do not meet God's standard of goodness. I know that I can never be good enough on my own."
2. The Bible says:
"But your iniquities have separated you from your God; And your sins have hidden [His] face from you, So that He will not hear" (Isaiah 59:2). "For the wages of sin [is] death, but the gift of God [is] eternal life in Messiah Jesus our Lord" (Romans 6:23).
"I agree with the Bible and believe that because I am a sinner I am separated from God. I deserve the punishment of death and need God's forgiveness and His gift of eternal life."
3. The Bible says:
"But He [was] wounded for our transgressions, [He was] bruised for our iniquities; The chastisement for our peace [was] upon Him, And by His stripes we are healed" (Isaiah 53:5). "But God demonstrates His own love toward us, in that while we were still sinners, Messiah died for us" (Romans 5:8).
"I agree with the Bible and believe that Jesus the Messiah died to pay the penalty for my sins."
4. The Bible says:
"If you confess with your mouth the Lord Jesus and believe in your heart that God has raised Him from the dead, you will be saved." (Romans 10:9) "But as many as received Him, to them He gave the right to become children of God, to those who believe in His name." (John 1:12)
DO YOU agree with the Bible and believe that Jesus rose again from the dead? Are you now prepared to confess Him as your Lord, believe in His name and receive Him as your Savior?
If you don't understand or don't agree with these four points and would like to discuss this with someone click here.
Please follow and like us: